July 7, 2017 - 7:00 pm
Stone Mountain, GA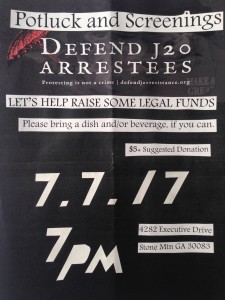 On January 20th, 230 people were mass arrested during demonstrations against Donald Trump's Inauguration.
The arrests were made by use of a "kettle" technique of individuals on the corners of L and 12th Street, without orders to disperse. 214 of these arrestees were charged under the Federal Riot Statute. On April 27th, multiple additional felony charges were added. The 211 remaining defendants could now face up to 75 years in prison.
DEFEND J20 ARRESTEES
The J20 case is an effort to mass-punish hundreds of protesters for their political affiliations.  It is a test case which, if successful, will have dramatic effects on dissent all over the country.
Learn more about the case and strategies for resisting political repression at this potluck.  We will screen and discuss video reports on the Inauguration protests and the fallout.
Let's help raise funds to cover the huge legal expense this case is incurring!  Donations for the J20 Defense Fund will be accepted and are badly needed.
Please bring a dish or beverage if you can
$5+ suggested donation
For more information: http://defendj20resistance.org/